<< Back to product listing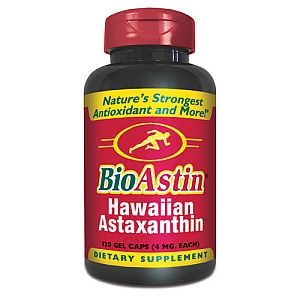 Product Information
BioAstin
Quantity: 120
Manufacturer: Cyanotech Price: Please call for details
Description of product
BioAstin® is a natural dietary supplement representing a new class of microalgae products with a powerful antioxidant profile with direct functional applications.
BioAstin's main ingredient is Natural Astaxanthin: a growing body of scientific research and practical testimonies demonstrate that natural astaxanthin can surpass many of the antioxidant benefits of vitamin C, vitamin E, beta-carotene and other carotenoids.
BioAstin® has also been shown to be a powerful natural anti-inflammatory supplement, it supports good eyesight, it helps protect the skin against UV-radiation, contributes to good cholesterol and circulation, improves stamina and general well-being, it offers many cardiovascular benefits, alleviates carpal tunnel syndrome and improves the body's immune system.
Additionally, BioAstin is recommended for increasing sports performance and recovery from sports and exercise.

- 100% pure natural astaxanthin
- No preservatives, no synthetic sweeteners, no flavour enhancers
- Pesticide and herbicide free
- Natural, gluten free, non GMO
- Suitable for vegans and vegetarians
<< Back to product listing