<< Back to product listing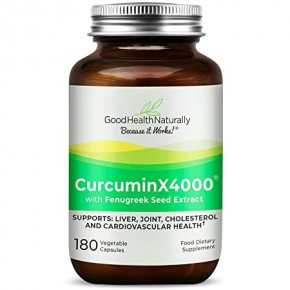 Product Information
Curcuminx4000
Quantity: 180
Manufacturer: Good Health Naturally Price: Please call for details
Description of product
Whether taken as a supplement or from food, regular curcumin is generally poorly absorbed into the bloodstream. Working with Indena S.p.A., the worldwide experts in botanical extract technology, we have found the answer to better curcumin absorption – phytosome technology. * Two studies have shown CurcuminX4000™ to be significantly better absorbed than a standardized curcumin extract.
Superior Absorption*
Phytosomes are plant extracts bound to phosphatidylcholine (fos-fa-tidal-ko-leen), which is an essential component of human cells. Our bodies make phosphatidylcholine, but we can also get it from food and supplements. When taken orally, phosphatidylcholine is very well absorbed.* To improve absorption, scientists at Indena found a way to attach curcumin to phosphatidylcholine – the result is CurcuminX4000! When you take CurcuminX4000 your body readily absorbs the phosphatidylcholine and the curcumin attached to it, resulting in more curcumin reaching the cells that can benefit from it.*
Superior Bioavailability*
A 2007 study published in the journal Cancer Chemotherapy and Pharmacology demonstrated CurcuminX4000's superior bioavailability compared to a standardized curcumin extract. This animal study noted a significantly greater amount of curcumin in the blood and tissue after dosing with CurcuminX4000.
A human study compared blood levels of curcumin after dosing with 4 grams of a standardized curcuminoid extract to 450 mg CurcuminX4000 curcuminoids (bound to phosphatidylcholine), and found similar blood levels of curcumin.
<< Back to product listing