<< Back to product listing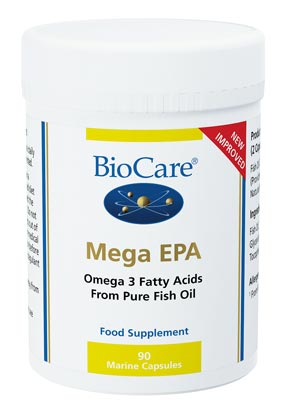 Product Information
Mega EPA
Quantity: 90
Manufacturer: BioCare Price: Please call for details
Description of product
Mega EPA is a high potency fish oil capsule in a natural triglyceride form, it is naturally concentrated using NEO-3™ - a unique lipase enzyme process which results in a fish oil of outstanding quality and high potency,
A High potency capsule suitable for daily use.
Suitable for use during pregnancy (no added vitamin A or D) to support foetal development.
Provides fish oil from anchovies and sardines and is free from detectable PCBs and contaminants.
Utilises our 'Multox' antioxidant system for enhanced stability.
Naturally concentrated using our patented NEO-3™ process, utilising lipase enzymes.
Mega EPA retains its natural triglyceride form for enhanced bio-availability
Naturally pre-digested using our patented NEO-3™ process, for improved absorption
Omega-3 fatty acids support the heart and facilitate the utilisation of oxygen by heart muscle.
Omega-3 fatty acids support the epithelial tissue lining the lungs, intestinal tract and the skin.
<< Back to product listing