<< Back to product listing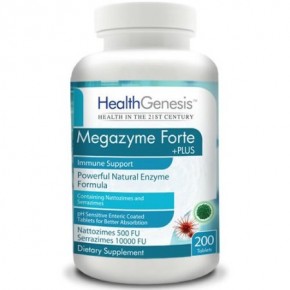 Product Information
Megazyme Forte Plus®
Quantity: 200
Manufacturer: Health Genesis Price: Please call for details
Description of product
Scientifically engineered with an extensive blend of essential plant and proteolytic enzymes, this is a highly effective product that can greatly assist in the digestion of foods as well as other immune functions. Megazyme Forte Plus also contains Serrazimes and Nattozimes. Scientific studies indicate that Serrazimes and Nattozimes may help maintain and support cardiovascular and and lymphatic health, as well help support the immune system and promote a healthy response to external stresses.
Suggested usage:
Three tablets, three times daily, two hours after each meal.

Features
* Other ingredients : Microcrystalline, Cellulose, Calcium Phosphate Dibasic, Enteric coating (Purified water, Ethylcellulose, Ammonium Hydroxide, Medium Chain Tryglicerides, Oleic Acid, Sodium Alginate, Stearic Acid), Croscarmellose Sodium, Stearic Acid, and Magnesium Stearate.
Serving Size: 2 pH Sensitive, Enteric Coated Tablets Contain:
Amount Per Serving % Daily Value
Zinc (As Gluconate) 2 mg 13%
Pancreatin 4X 313 mg *
Papain 150 mg *
Bromelain 150 mg *
Amylase 20,000 DU *
Lipase 3,400 U *
Trypsin 125 mg *
a-Chymotripsin 45 mg *
Super Oxide Dismutase (SOD) 50 mcg *
Catalase 200 U *
L-Glutathione 10 mg *
Rutin 100 mg *
Thymus Substance 55 mg *
Nattozimes® 500 FU *
Serrazimes® 10,000 FU *
Daily Values Based on a 2000 Calorie Diet.
*Daily Values Not Estabilished.


<< Back to product listing