<< Back to product listing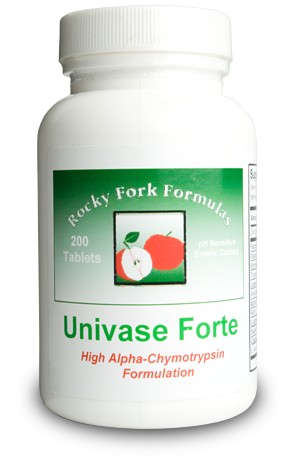 Product Information
Univase Forte - Manufacturer out of stock
Quantity: 200
Manufacturer: Rocky Fork - Not currently available
Description of product
This product is best delivered in tablet form. Since stomach acid is highly destructive to pancreatic enzymes and to most plant source enzymes and since capsules are quickly broken down in the stomach, the use of capsules with enzymes is a bad idea. For most nutrients, passing through the stomach does no harm and in some cases is helpful and even necessary, but it is not good for most enzymes. Since capsules can not be enteric coated, any enzyme formula in a capsule form is likely to be of a greatly diminished value.
Univase Forte Facts
Ingredient (per tablet)
(Details to follow)
Beware of the term "enteric coated" unless it says " pH sensitive" before enteric coating. An enteric coating is one that is placed over the tablet to protect its contents. However you may only be getting a simple protein or even vegetable shellac coating if it does not state pH Sensitive.
<< Back to product listing