<< Back to product listing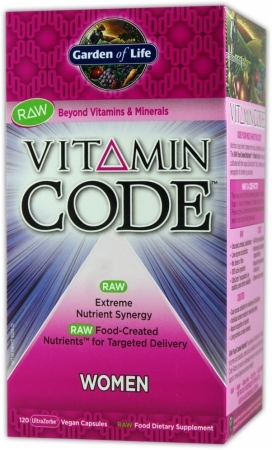 Product Information
Vitamin Code 50 + Wiser Women
Quantity: 240
Manufacturer: Garden of Lie Price: Please call for details
Description of product
Specifically Designed For 50+ Women
Vitamins, Minerals, Probiotics, Enzymes, Whole Foods
Recommended Serving Size 4 Caps
Given that a woman's body experiences many physical changes as it matures, it stands to reason that their nutritional requirements change as well. From varying hormone levels to changes in bone mass, women in this stage of life often tend to absorb nutrients less efficiently. During this special time of a woman's life, it is especially important to feed the body with proper nutrients to function at optimum levels. Vitamin Code 50 & Wiser Women's Formula helps support the body during this time in life to maintain overall health and well being.*
In developing Vitamin Code 50 & Wiser Women's Formula, Garden of Life® paid special attention to the complexities of a woman's body in this changing stage of life. Providing select nutrients to support breast health with added vitamins D and E, bone strength† with vitamins A, C, D, calcium, magnesium and zinc, and cardiovascular support† by adding vitamin B complex and vitamins C and E†, Vitamin Code 50 & Wiser Women's formulation delivers the appropriate nutrients to support these key health areas.*
Vitamin Code 50 & Wiser Women's Formula is a comprehensive multi-vitamin with RAW Food-Created Nutrients™ offering an extreme synergistic blend of vitamins and minerals for extraordinary health and vitality.
The RAW Food Created Nutrients found only in Vitamin Code multi-vitamins are individually cultivated with their unique Code Factors intact. Including live probiotics and enzymes , amino acids, antioxidants and other bioactive Code Factors™, all Vitamin Code multi-vitamins offer the following features:
RAW
Uncooked, Untreated, Unadulterated
Binder Free — No Fructose, Maltodextrin, Magnesium Stearate or Corn Starch
Live Probiotics & Enzymes

Food-Created Nutrients
Premium, RAW, Whole Food Ingredients
Individual Nutrient Creation with RAW Fruits & Vegetables
Body-Ready
Formulated for Easy Digestion
Nutrient-Specific Peptides
Going beyond vitamins and minerals, Vitamin Code 50 and Wiser Women's Formula is an excellent choice for breast health and support of a healthy heart, good digestion, and bone health.†
* Note:
These statements have not been evaluated by the Food and Drug Administration. This product is not intended to diagnose, treat, cure, or prevent any disease.
<< Back to product listing